via AP: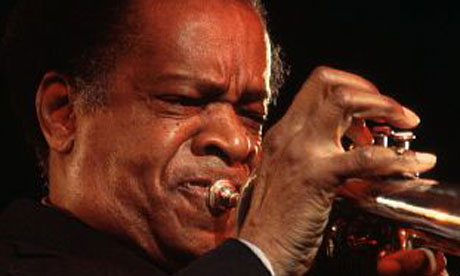 Jazz musician Donald Byrd, a leading hard-bop trumpeter of the 1950s who collaborated on dozens of albums with top artists of his time and later enjoyed commercial success with hit jazz-funk fusion records such as "Black Byrd," has died. He was 80.
He died Feb. 4 in Delaware, according to Haley Funeral Directors in the Detroit suburb of Southfield, Mich., which is handling arrangements. It didn't have details on his death.
Byrd, who was also a pioneer in jazz education, attended Cass Technical High School in Detroit, played in military bands in the Air Force and moved to New York in 1955. The trumpeter, whose given name was Donaldson Toussaint L'Ouverture Byrd II, rose to national prominence when he joined Art Blakey's Jazz Messengers later that year, filling the seat in the bebop group held by his idol Clifford Brown.
He soon became one of the most in-demand trumpeters on the New York scene, playing with Max Roach, Sonny Rollins, John Coltrane and Thelonious Monk. He also began his recording career by leading sessions for Savoy and other labels.
In 1958, he signed an exclusive recording contract with the Blue Note label and formed a band with a fellow Detroit native, baritone saxophonist Pepper Adams, making their label debut with the 1959 album "Off to the Races." The band became one of the leading exponents of the hard-bop style, which evolved from bebop and blended in elements of R&B, soul and gospel music. A 1961 recording, "Free Form," brought attention to then 20-year-old pianist Herbie Hancock.
Continue reading at The Seattle Times.