via MyBallard.com:
Tomorrow kicks off the first night of the annual Ballard Jazz Festival, starting Wednesday, April 18 and going through Saturday, April 21.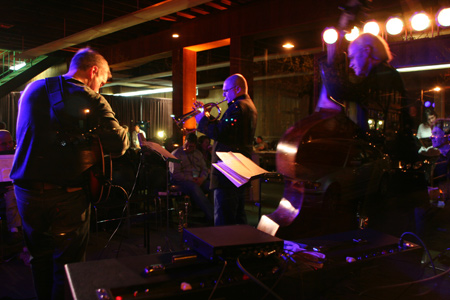 The John Moulder Quartet, from a previous year's festival
The festival is happening all over Ballard, with tomorrow's opening night at the Conor Byrne Pub with Brotherhood of the Drum. The rest of the week is as follows:
Thursday, April 19, the Guitar Summit will take the stage at Conor Byrne, featuring Bobby Broom, Tim Young, John Stowell, and Dave Peterson.
Friday, April 20, is the Ballard Jazz Walk, featuring 17 groups happening at 12 venues all over Ballard.
Saturday, April 21, the festival will be going on all day, starting with the Swedish Pancake Jazz Brunch at 11 a.m. at the Nordic Heritage Museum. The festival will culminate that evening with a concert at the Nordic Heritage Museum, featuring Bobby Broom Trio and the Orrin Evans Quartet.