from Doug Ramsey's Rifftides: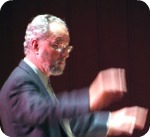 The fund-raising effort to aid composer, arranger, trumpeter and bandleader Jim Knapp is progressing slowly. Knapp recently lost his right foot and part of his lower leg in an operation to combat diabetes. In a message, he writes, "My recovery is going well. I have a prosthesis now, so I am bipedal again." His financial recuperation is less stable. Friends and fellow musicians headed by saxophonist Steve Griggs have set a goal of $30,000 to defray Knapp's medical expenses, which far exceed his insurance coverage. A performance of Knapp's music earlier this month helped, but Griggs reports that the total is $4,485, more than $25,000 short of the target. He and his group have set up a donation website here.
The benefit concert November 2 at Seattle's Triple Door included this performance of "Secular Breathing," the title piece of a 2003 Knapp album. The soloists are Mark Taylor, Steve Treseler and Stuart MacDonald, tenor saxophones; John Hansen, piano; and Jon Hamar, bass.
The other members of the Knapp Orchestra were Jim Dejoie, baritone saxophone; Jay Thomas, Brad Allison and Vern Sielert, trumpets; Tom Varner, French horn; Jeff Hay and Chris Stover, trombones; and Matt Jorgensen, drums.