from CNN.com: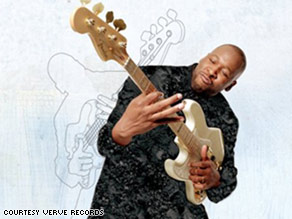 Wayman Tisdale, who became a successful jazz musician after retiring from pro basketball, died Friday morning following a two-year battle with cancer, his agent said.
Tisdale, 44, died in a Tulsa, Oklahoma, hospital, where his wife took him when he had trouble breathing early Friday, agent Scott Pang said.
Tisdale's death was "a complete shock" and came as he prepared to return to the recording studio next week to work on a project with jazz guitarist Norman Brown, Pang said.
"He was a real testament to the power of positive thinking," said Pang. "Even after the cancer and amputating his leg above his knee, he never lost that smile on his face."
Doctors discovered Tisdale's bone cancer after he broke his leg in a fall down a flight of stairs, according to the official biography on his Web site.
"It really showed me what's important in life, man," he said in his bio. "It's not getting as many houses as I can, not driving the biggest cars. What's important is family and being healthy."
Continue reading at CNN.com