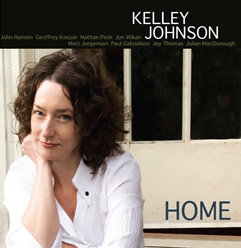 Published by blogcritics.org, written by Jordan Richardson
Kelley Johnson emerges from the Seattle rain and casts the sun in the sky with her affectionate vocal tinges and her subtleties.
A jazz vocalist of the highest order, Johnson's Home is a sincere record that runs the breadth of natural phrasing and stylish intimacy with effortless boldness, providing glimpses of a truly proficient vocalist that will surely find home in several places. Her style belongs both at the kitchen table and at the smoky jazz club, making pitstops the world over in between.
Johnson is as skilled an arranger and lyricist as she is a singer. She infuses her songs with class and her lyrics have a sense of kindness and social justice that is all too rare in the world of jazz.

Kelley grew up in the Midwest and was surrounded by music at an early age. Her mother was severely injured in a car accident and the family had to take in boarders to raise extra money to make ends meet. The guests in the Johnson home were an eclectic bunch, often comprised of a series of comedians, singers, songwriters, and actors. The record collection at the Johnson house grew as the result of so many new friends and it wasn't long before young Kelley discovered a serious love for jazz.
Fast-forward to present day and Kelley Johnson is known as the singer with the "band concept." She writes and performs with her backing instrumentalists in mind, always careful to leave open spaces for flourishes of piano or sax that so soothingly and effortlessly accompany her smooth vocals.
With Home, Johnson is well in control and balances things delightfully.
Her take on some of the classics is invigorating, as the attentive Geoffrey Keezer arrangement of Irving Berlin's "Be Careful, It's My Heart" is a bubbly but not tacky rendition of the tune and Ingrid Jensen's take on the beautiful "Moon River" gives Kelley's voice prime showing. She handles both classics with care and impeccable sophistication.
It is the astonishing "Home" that really demonstrates Johnson's ultimate power as the complete artist, though. The magnificently visual lyrics, penned by Kelley herself, and the dazzling arrangement, also by Johnson, come together as a bluesy jazz tune worth many a repeat listen.
There are several great moments on Home waiting to be discovered by lovers of prime vocal talents.
Kelley's work on "Wouldn't It Be Loverly/Living Room" and her arrangement of the track should enjoy celebrated status and her take on the Gershwin classic "Love Walked In" shows the luminous corners of her voice without sounding kitschy.
Overall, Kelley Johnson's Home is a tremendous jazz vocal record. Her ability to arrange and perform great songs is incontestable and her optimistically dramatic outlook towards song-craft shines through. It's a beautiful album.