Posted 23 November, 2014 in CD Reviews -

Comments Off

comments
Review by Andrew Freund
Issue #1
Trio Tritticali
Multikulti jazz is hardly a new phenomenon, but here is a group that speaks in a collective voice that is brave and sly and remarkably its own. Issue #1, the debut recording of the genre-bending, all-strings Trio Tritticali, offers us music so fresh, assured, and unique, to register as a delightful surprise.
Trio Tritticali is the joint project of three virtuosi, Helen Yee, a Yale-trained wide-ranging violin dynamo (and throat singer), Leanne Darling, a violist with particular affinities for Arabic music and electronic looping, and Loren Kiyoshi Dempster, a University of Washington-trained cellist of "world music" sympathies, who also plays the didgeridoo, sometimes in tandem with his father, the UW trombone guru, Stuart Dempster. That such iconoclasts choose to so subsume their strong individual identities to a unified group sound is remarkable.
Strings-only jazz, an outlier to American tradition, originated overseas (with the thirties Django/Grappelli chug-chug-chug Quintet of the Hot Club of France), so little wonder at this New York-based group's name, or musical globe-hopping. But, while forging a complicated identity, outdistancing previous categories, Tritticali is a unit that was gigging together for four years before recording, and by now their playing displays the unity of purpose of the finest string quartets. Their sound is comfortable, organic, cohesive, and insidiously thrilling.
Pardon the pun, but Trio Tritticali finds no need to be high-strung. They dig in, certainly, and don't stint on passion, but on their own chosen terms. How refreshing – a new recording that answers mostly to itself. Over and over, they display absolute mutual trust and unity of purpose. Their arrangements are surprisingly complex, time-defyingly pensive here, propulsive or gamboling there, moments that prove that they have learned their Philip Glass lessons.
Trio Tritticali is both daring and conversational, a fascinating combination. They traffic in sensual release, but in the context of formal restraint. Their CD matches band originals and arrangements to Jobim's Corcovado and Oliver Nelson's Stolen Moments, visiting Argentine tango and keening Near Eastern mysteries, along with evocations of traditional Japan and other ports of call. Sometimes redolent of the hippest of salons, the music finds time to swing, while telling one
overall, sly, knowing story.
Throughout Issue #1, there is an ongoing sense that the listener is being invited to share a passel of musical secrets, many with implications that only reveal themselves over time. So, as a trio of stringed companions explore old traditions along new pathways, this is an invitation I would advise the world to accept.
Posted 4 January, 2014 in CD Reviews -

Comments Off

comments
via Greg Sinibaldi:
I'm happy to announce the release of my newest record, Ascendant, on the Prefecture Music label.
Ascendant was recorded in the Dan Harpole Cistern with my good friend, clarinetist Jesse Canterbury. The Cistern is a unique space; a two-million gallon cylindrical concrete tank, originally constructed as an emergency water supply for fire control at Fort Warden in Port Townsend, WA. It has a 45 second reverb, which makes the acoustic qualities of this record truly unique. The album features compositions by myself and Jesse as well as a few improvisations, for two bass clarinets, saxophone and clarinet. It sounds awesome!
Additionally, you can get this record on an actual record! Vinyl baby! For only $12.50 you can buy a limited edition vinyl copy of the album. When you buy, you'll also get a high resolution digital download of the music too, for all your iPod/computer/phone needs.
Don't have a turntable? No problem, you can download the record in a number of digital formats, for whatever you want to pay for it!
Head to http://prefecturemusic.org/ for more information and links to get the record! I hope you enjoy it!
Posted 25 January, 2013 in CD Reviews -

Comments Off

comments
from All About Jazz:
Bassist Jeff Johnson traveled the United States from the 1970s until 1990. He followed the work during his time of transience, and played an array of styles, from R&B to country, from blues to pop, and jazz. Then he put his suitcase down in Seattle and evolved into something of a house bassist for Origin Records, backing pianists Jessica Williams and Hal Galper, saxophonist Mark Taylor, vocalists Carrie Wicks and Jeff Baker, drummer John Bishop, and many more.
For his own recordings, he favors a free jazz approach and the trio—saxophone, bass and drums. His trio, with saxophonist Han Teuber's smooth, fluid sound in the center, is spacious and cool, a sort of West Coast Zen music. But on Suitcase, Johnson adds a pianist into the fold for the first time since 2001's Art of Falling (Origin Records).
The quartet's chemistry is remarkable. While Johnson has been playing and recording with Teuber for more than twenty years, pianist Steve Moore and drummer Eric Eagle are newcomers who have lent a new dimension to the bassist's sound. Moore, in this setting, is very effectively stingy with the notes he plays, placing them perfectly in this flexible, chamber music-like ensemble; and Eagle is a master of percussive subtlety who has no problem laying on a bit of muscle when the situation calls for it. And it calls for it on Johnson's "Scene West," and "Soweto Man, where the bassist leads the group deep into the groove.
With the exception of the disc's opener, "Shake it Off," an in-the-moment, four-way improvisation, all the tunes are from Johnson's pen, written during his "twenty years of wandering" around the country, following the jobs. "Avion" features Teuber on bass clarinet, contributing a smooth, deep tone to a tune that floats, untethered in a cloud- drift mode. "Kiwi" is a rather jaunty, light-stepping waltz and "Artist" has a brooding, late night mood, with Teuber at his most beautiful.
"Letters for Marcy," written for the special lady in Johnson's life, is a gorgeous, tender love song, with Johnson singing the woman's praises in the most poignant of fashions on his Fender Jazz bass, before Teuber blows in like an intimate whisper. The band closes with "Soweto Man," with Teuber's alto flute layered over a steady dance beat, wrapping up Johnson's finest recording to date.
Posted 24 November, 2012 in CD Reviews -

Comments Off

comments
from All About Jazz.com
Chad McCullough, with one CD under his own name—the outstanding Dark Wood, Dark Water (Origin Records, 2009)—has also contributed his distinctive voice to recordings by the Kora Band and Tunnel Six, all under the Origin Records banners. But the Seattle-based trumpeter must have a European sensibility; his finest work to date has been in teaming, as co-leader, with artists from the other side of the Atlantic—Slavakian pianist Michal Vanoucek, on The Sky Cries (Origin Records, 2010), and Antwerp-based pianist Bram Weijters, on Imaginary Sketches (Origin Records, 2011), and now, again with Weijters, on what could be a breakout effort for both players, Urban Nightingale.
Recordings that are tagged "breakouts" aren't necessarily way better than the efforts that preceded them. It's more a matter of the output reaching a critical mass of sustained excellence that pushes the music to a level where it gains greater notice. A re-visitation of McCullough's previous CDs as leader or co-leader reveals a well-developed artist who is smart enough to pick great sidemen starting out with his Dark Wood, Dark Water debut. He is a rare instrumentalist who makes each note sound as if it were imbued with a deeper meaning. Certainly a player with great chops, his approach—especially on his two teamings with Weijters—is one that is a measured and deliberate, often introspective, sometimes gorgeously melancholic, and one that employs a continuity of mood and atmosphere that the best recordings have.
That said, Weijters is, perhaps, more responsible for the concepts of their two CDs together. His is the dominant songwriting voice, having penned five tunes to McCullough's two on Imaginary Sketches and seven tunes to McCullough's two on Urban Nightingale. His piano playing has a distinctively searching quality, and he has added to his arsenal (or at least brought it into play since Imaginary Sketches) the Fender Rhodes, which he uses to give some of the tunes a gritty, urban atmosphere.
Inside the sound is the perfect, understated bass pulse of Piet Verbist and subtle percussive intricacies of drummer John Bishop the super sideman in the drum chair for Origin Records, also the label's honcho, and one of the finest CD cover art designers in jazz, rounding out the quartet on an outstanding set of sounds.
Track Listing: Nightingale; Residu; Freezing; Love Song; Flow; Tired and Dizzy; Buildings in a Dark City; Phrygian; Downtime.
Personnel: Chad McCullogh: trumpet, flugelhorn; Bram Weijters: piano, Fender Rhodes; Piet Verbist: bass; John Bishop: drums.
Posted 23 November, 2012 in CD Reviews -

Comments Off

comments
from All About Jazz.com
Origin Arts bassist Jon Hamar effects an intimate trio with alto saxophonist Todd DelGiudice and pianist Geoffrey Keezer on Hymn. Heard most recently, prior to this date, on Richard Cole's Inner Mission (Origin Records, 2007), Hamar's Hymn is heavy on introspective yet muscular originals, as Hamar also chooses some sturdy standards upon which to improvise.
Hamar closes is disc with a swinging reading of Lew Brown's "Comes Love." Keezer rolls his fingers just right in the introduction, preparing the way for Hamar to state the melody down low, with piquant accents by DelGiudice. The song is played as an insinuation. Each instrument is responsible for keeping the others between the lines at different times, and each instrument makes every effort to color outside those lines. Keezer tries to foil Hamar's walking bass, and Hamar hands it right back to him in his solo. DelGiudice takes advantage of the situation, running away in his solo, looking for the spirit of Johnny Hodges.
Personnel: Jon Hamer: bass; todd DelGiudice: alto saxophone; Geoffrey Keezer: keyboards
Posted 18 May, 2012 in CD Reviews, Review -

Comments Off

comments
from All About Jazz | Buy Dialogue at Human Spirit's website
The three players who now call themselves Human Spirit—drummer Matt Jorgensen, trumpeter Thomas Marriott and alto saxophonist Mark Taylor—have a very successful track record of recording together. They teamed up on Jorgensen's magnificent Tattooed by Passion (2010) and Another Morning (2008), and on Marriott's strange and splendid Crazy: The Music of Willie Nelson (2008) and Flexicon (2009), all on Seattle's Origin Records. But the idea of the group's name came certainly from Marriott's Human Spirit (Origin Records), teaming the trio with organist Gary Versace for one of 2011's most dynamic and modern-sounding recordings.
Dialogue finds the group—with special guests sitting in on piano and bass—in a live setting at the Earshot Jazz Festival, and sounding very spirited indeed. Jorgensen, Marriott and Taylor have a special genius for for taking the standard jazz quintet—sax, trumpet and rhythm section—and breathing new life into the format. The distinct ensemble sound comes, in part, from the melding of Taylor's tart tone, with its "lemonade a couple of teaspoons short on the sugar" tang blending with Marriott's clean, pure timbre. A vibrant simpatico rises up, whether the horn men are playing unison lines or interweaving long notes, leading to always-inspired soloing. Jorgensen, in the drum chair, channels tumultuous grooves and—as the best of the best drummers seem to do (like the late Paul Motian, and Al Foster)—makes everyone sound better, as he subtly boosts the music and catches the ear with the unexpected.
Dialogue's tunes are all originals: two by Jorgensen; two from Taylor; and four from perhaps nominal leader Marriott. It's a live show, and the energy level is high, with mostly up-tempo workouts and lots of fire. And the special guests are inspired choices, as they've always been with Human Spirit—whether, as on previous recordings, it was guitarist Corey Christiansen and keyboardist Ryan Burns, or bassists Geoff Harper, Dave Captein or Jeff Johnson. The guest slots on Dialogue go to pianist Orrin Evans, who plays with percussive gusto, and bassist Essiet Essiet, who supplies a solid foundation for the horns' soaring free flights.
Human Spirit offers up high wire jazz quintet sound with Dialogue, an outing that takes a standard lineup and shifts it into a different dimension.
Track Listing: In Unity; Stepford and Son; Reversal of Fortune; Song for Samuel; After Hours; 148 Lexington; Pelham Gardens.
Personnel: Thomas Marriott: trumpet; Mark Taylor: alto saxophone; Matt Jorgensen: drums; Orrin Evans: piano; Essiet Essiet: bass.
Posted 26 April, 2012 in CD Reviews, Seattle Jazz -

Comments Off

comments
from All About Jazz:
In the twilight days of the compact disc as a sound storage device, the most compelling reason for keeping what still seems a "new" audio media (compared to wax cylinders and 78s) in the face of purely electronic media is "concept" or "thematic" releases. One such example was drummer Todd Bishop's Pop Art 4 album, 69 Annee Erotique (Origin Records, 2009). This excellent release surveyed the music of French pop artist Serge Gainsbourg, music with popularity in Europe, little heard in the United States. Bishop used this collection of music as a vehicle for novel arrangements and improvisation, turning it into a more than familiar period sound and thereby achieving greater New World exposure for one of France's greatest artists.
Bishop has picked another enigmatic subject in Ornette Coleman, assembling a collection of never before covered compositions (save for "Lonely Woman"). Coleman's enigma extends to the disc's title, Little Played Little Bird. The "Little Played" represents the songs from Coleman's book that are rarely covered. Coleman was never called "Little Bird" like Sonny Stitt or Frank Morgan, but the association could not have been clearer. As it turns out, the name Ornette literally means "Little Eagle" or "Little Bird" in Old English. Bishop does with this repertoire what he did with the Gainsbourg material; he refracts it through the prism of his experience, making something new and vital.
The music selected by Bishop covers 1959—"Lonely Woman" from The Shape of Jazz to Come (Atlantic)—to 1987—"Feet Music" from In All Languages (Caravan of Dreams). The band Bishop assembled to perform this rarified music is notable for the lack of an alto saxophone. Instead, Bishop heads up a quintet made up of Hristo Vitchev's pianist Weber Iago, bass reeds player Richard Cole, tenor and soprano saxophonist Tim Willcox, and bassist Bill Athens. In contrast to much of Coleman's work, Bishop's inclusion of Iago on piano lends a greater harmonic depth, and therefore, a foundation to these ruminative compositions.
Bishop's performances plumb the freedom inspired by Coleman while placing the composer's song in a postmodern light. Most notably, the plaintive alto wail that is the hallmark of "Lonely Woman" is conspicuously absent, the underlying theme presented instead by Willcox on tenor and Cole cleverly on bass clarinet. Iago plays nervous, percussive dances in the background. Iago's use of the Wurlitzer on "Friends and Neighbors" and "Country Town Blues" is very effective. For a collection based on music where the piano is anathema, Iago discharges himself admirably on both keyboards. The leader provides that vibe essential to the Coleman sound—that controlled chaos that so permeated post bop in the wake of John Coltrane's classic quartet and Miles Davis's second great quintet—freewheeling and solid.
Track Listing: Mothers of the Veil; Enfant; Feet Music; Comme Il Faut; Friends and Neighbors; Check Up; Country and Town Blues; Lonely Woman; Strange As It Seems.
Personnel: Richard Cole: bass clarinet, baritone, tenor and soprano saxophones; Tim Willcox: tenor and soprano saxophones; Weber Iago: piano, Wurlitzer; Bill Athens: bass; Todd Bishop: drums.
Posted 20 May, 2011 in CD Reviews, Review, Seattle Jazz -

Comments Off

comments
from Jazz Times Magazine:
Most major American cities (and, for that matter, most European ones) contain a jazz musician who is the default bassist of record. You run into them all over town, in all manner of ensembles, kicking ass and taking names.
In Seattle, Wash., it is Chuck Deardorf. He is known for making other people sound good, not leading his own projects. But Transparence argues that he is also a strong and smart bandleader. Deardorf blends various configurations of the 14 musicians and combines sessions recorded in several places over three years into a coherent album statement with continuity of tone. It is no mean trick. His own voice is the primary unifying factor. He is a quick, clear rhythm-section player and an articulate, interesting soloist on all of his instruments: acoustic, Toucan and Fender freltess basses and acoustic bass guitar.
The roster of 14 includes strong players from Seattle (alto saxophonist Hans Teuber, pianist Jovino Santos Nero, tenor saxophonist Richard Cole) and elsewhere (pianist Bill Mays, guitarists Bruce Forman and Rick Peckham). Most of the ensembles are duos, trios or quartets, and there is a string bias. (Four different guitarists interact with Deardorf's basses.) On "Alone Togeher," Forman's electric guitar and Deardorf's acoustic bass create resonant blends and suggestive contrasts. The same instrumental combination, with Rick Peckham on guitar, portrays Jobim's gentle "Zingaro" as something edgy and twangy.
Deardorf makes inspired song choices like "The Peacocks." The version here is one of the permanent recordings of Jimmy Rowles' atmospheric masterpiece. Deardorf and Mays and Teuber allow the song to keep its secrets. Together and apart, they just beautifully float with it.
Posted 21 October, 2008 in CD Reviews, Review -

Comments Off

comments
from All About Jazz.com
Bassist Jeff Johnson has built a stellar reputation in jazz circles, having worked with pianists Hal Galper and Jessica Williams and appearing on over two-dozen recordings for the Seattle-based Origin Records. For his fourth release as a leader, Tall Stranger, the Seattle-based Johnson, along with saxophonist Hans Teuber and drummer Billy Mintz, delivers an intriguing set of stripped-down compositions, emphasizing a free-form approach to group improvisation.
The trio converses in a confident, unhurried manner throughout the disc. Teuber's breathy, warm tone on tenor saxophone and bass clarinet complements Johnson's deep, woody growl and Mintz's subdued, contrapuntal approach. Together, the three create musical lines that intertwine and enhance each other's point of view.
Continue reading at All About Jazz.com.

Click here to buy Tall Stranger from Origin Records.
Posted 13 August, 2008 in CD Reviews -

Comments Off

comments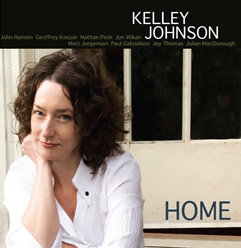 Published by blogcritics.org, written by Jordan Richardson
Kelley Johnson emerges from the Seattle rain and casts the sun in the sky with her affectionate vocal tinges and her subtleties.
A jazz vocalist of the highest order, Johnson's Home is a sincere record that runs the breadth of natural phrasing and stylish intimacy with effortless boldness, providing glimpses of a truly proficient vocalist that will surely find home in several places. Her style belongs both at the kitchen table and at the smoky jazz club, making pitstops the world over in between.
Johnson is as skilled an arranger and lyricist as she is a singer. She infuses her songs with class and her lyrics have a sense of kindness and social justice that is all too rare in the world of jazz.
(more…)
Posted 13 June, 2008 in CD Reviews, Origin Records -

Comments Off

comments
Doug Miller's new CD, Regeneration, was just reviewed on All About Jazz.com.
Miller's bass playing is featured prominently throughout with arco and pizzicato soloing. It is his unaccompanied bass reading of "Bye Bye Blackbird," however, that really sums up what his playing is all about: no-nonsense, punchy and swinging. The influence of heavy hitter's like bassists Ray Brown and John Clayton is made obvious through nicely-phrased blues licks, double stops and chords.
This music is both interesting and fun. Miller and company come across as a strong, like-minded unit.
Click here to read the complete review.
Posted 4 June, 2008 in CD Reviews, Origin Records -

Comments Off

comments
by Andrew Hamlin, Seattle Sound Magazine
Seattle-based jazz pianist and singer Dawn Clement's back with a new album, Break. I just hope she doesn't wait another five years between albums. I reviewed Hush, her debut as a leader, back in 2003, remarking that she "eloquently shares space with her bandmates … but her solo excursions show her capable of emulating a whole band, condensing, expanding, and rippling lines on her right side and mining new rhythms on her left." She's still all that, but "that" now absorbs and emanates a thicker multiverse.
At the keys she so often, so confidently, sprints up a scale, drops down a few steps like playing hide and seek, and finally pirouettes around the top of the previous figure. She musters an expressive muddle in the middle of "Distant Oasis," then strides rightly out like a kid through the mud. The opener, Jerome Kern's "I've Told Every Star," stops and goes through "I Got Rhythm" figures, leaving her pulling and pushing at the time.
Click here to read the full review
Posted 3 June, 2008 in CD Reviews, Origin Records -

Comments Off

comments
From AllAboutJazz.com by John Barron
Legendary west coast saxophonist Hadley Caliman made his mark by touring and recording with the likes of Freddie Hubbard, Joe Henderson, Bobby Hutcherson and Santana. For Gratitude, his first recording as a leader in three decades, Caliman is joined by vibist Joe Locke, bassist Phil Sparks, drummer Joe LaBarbera and trumpeter Thomas Marriott, who also produced the recording.
The disc opens with Marriott's "Back For More," a 6/8 minor blues. The simplistic, captivating theme and energetic groove sets the stage for a session full of unrelenting energy. Well into his seventies, Caliman holds his own with his somewhat younger crew, playing with the confidence and inventiveness of someone half his age. The veteran weaves through the Kurt Weill obscurity "This Is New" with sophisticated playfulness and soars gracefully on his own Afro-Cuban-inspired burner "Comencio."
"Linda," Caliman's meditative tribute to his wife, is reminiscent of John Coltrane's "Naima" with its hauntingly sparse theme and bass pedal-tones. Locke's out-of-time floating behind the melody is satisfyingly hypnotic.
Things really start to cook by the time Joe Henderson's "If" is introduced. Supported by Sparks' rock-solid walking pulse, Marriott, Caliman and Locke blow through the angular blues form with imaginative vigor, setting up raucous twelve-bar exchanges with LaBarbera. On "Joe Joe Dancer Bossa Nova," another Caliman original, Marriott tips his hat to Hubbard with crackling lyricism.
Gratitude is an exceptional comeback for an unsung maverick of modern jazz. Hopefully the next one doesn't take thirty years.
Posted 21 February, 2008 in CD Reviews, Press, The Stranger - (2) comments
Seattle newspaper The Stranger has a nice review of Thomas Marriott's Crazy: The Music of Willie Nelson:
I phoned Seattle trumpeter Thomas Marriott with just one question about his latest disc, Crazy: The Music of Willie Nelson (Origin): Why Willie Nelson?

As if anticipating my question, Marriott reflected, "In jazz, we have a lexicon of songs—the repertory of standard tunes. Many of them," he added, "come from movies made in the 1930s. The repertory needs updating."
It's rare to see jazz coverage in any of our mainstream media here, so this article is an especially nice nod to both the new and old in Seattle's jazz scene, also mentioning today's Buddy Catlett concert.
To read the entire article online, click here, or pick up a print copy today.
Posted 2 February, 2008 in CD Reviews, Origin Records -

Comments Off

comments
By John Barron, All About Jazz.com
Crazy: The Music of Willie Nelson goes above and beyond the confines of mere adulation for an American music icon. Seattle-based trumpeter Thomas Marriott creates a conceptual sonic flow, harnessing energy from the melodic and rhythmic legacy of some of Nelson's well known and not-so-well-known gems. For the bulk of the session Marriott is supported by a stellar crew of like-minded risk takers, including saxophonist Mark Taylor, keyboardist Ryan Burns, bassist Geoff Harper and drummer Matt Jorgensen.
The disc traverses a musical landscape full of twists and turns, moving ever-so-smoothly from techno- based grooves ("Phases & Stages, Circles & Cycles"), to 1970s-era fusion explorations ("Write Your Own Songs," "You Wouldn't Cross the Street"), to straight-ahead blowing ("I'm Building Heartaches"). Tracks like "Everywhere I Go" and "Crazy" are comparatively clear-cut, adhering to the accessible nature of Nelson's gorgeous melodies.
An emphasis on melody seems to be Marriott's top priority throughout the disc's eleven tracks. The trumpeter's warm-tone and exuberance breathes life into simple, yet sumptuous themes such as "The Great Divide" and "On the Road Again." An exciting soloist, Marriott's improvised dueling with Taylor's soprano saxophone on "I'm Building Heartaches" stands out as a disc highlight.
Jorgensen and Harper keep things grounded while maintaining a loose, open-ended rapport with each groove. Burns snakes his way through the disc with inventive soloing and distorted synth clusters. His out-of- left-field accompaniment on the second half of "Crazy" is worth the price of admission. Guest keyboardist Wayne Horwitz creates an electronic frenzy on the Weather Report-influenced "Write Your Own Songs"—the groove is practically a carbon copy of Joe Zawinul's "Black Market."
The music from this session may be hard to categorize, but the same can be said of Nelson. The eclectic nature of the iconic singer/songwriter's catalogue lends itself surprisingly well to Marriott's liberal approach.

Click here to buy this CD
Posted 23 January, 2008 in CD Reviews -

Comments Off

comments
Trumpeter Cuong Vu, who is now teaching at the University of Washington in addition to his touring and recording, has two new reviews for his most recent CD, Vu-Tet.
Vu-Tet—an innovative, modernistic, compelling recording, from start to finish—answers the "Why plug in a trumpet?" question convincingly. Outstanding!
Read the full review at All About Jazz.com
With the possible exception of Norway's Nils Petter Molvaer and Arve Henriksen, there's simply no other trumpeter on the radar today as innovative in blending extended technique and electronic processing to expand the possibilities of his instrument. Utilizing both to dramatic effect, Vu turns the opening "Intro" into a sonic tour de force that begins atmospherically but gradually intensifies, with Takeishi creating his own layers of sound and Poor playing orchestrally rather than rhythmically.
Read the full review at All About Jazz.com
Listen to samples of Cuong Vu's new CD on his website:
http://cuongvu.com
Posted 19 December, 2007 in CD Reviews, Origin Records -

Comments Off

comments
By John Barron
originally published on All About Jazz.com
With no shortage of holiday music blasting through shopping malls and restaurants this time of year, it's easy to understand why some might want to escape the incessant bombardment of the overdone and out-of-date. If one looks hard enough, however, hope for Christmas music burnout can be found. One place to look is Origin Records' The Cool Season: An Origin Holiday Collection, Vol. 2. With fresh and swinging vitality, trumpeter Thomas Marriott, pianist Bill Anschell, bassist Jeff Johnson and drummer John Bishop provide an invigorating alternative to the average holiday fare.
The disc's selections range from familiar, to somewhat obscure, to brand new—Johnson contributes two original pieces. The strength of the session lies in the creative arranging of household melodies. The Vince Guaraldi classic "Christmas Time Is Here" moves along at a brisk 6/8 pulse, contrasting, yet maintaining the spirit of the original. "The Christmas Song" is re-shaped into a dark-tinged, modal frame for Marriott and Anschell to explore patiently.
(more…)
Posted 23 October, 2007 in CD Reviews, Origin Records, Seattle Jazz -

Comments Off

comments
Jazz Times writer and Yakima resident Doug Ramsey recently reviewed vocalist Gail Pettis' new CD on his blog, Rifftides:
Gail Pettis, May I Come In? (OA2). In her recording debut, the Seattle singer chooses a mixture of familiar standards and less-well-known songs, delivering them with warmth and intelligent interpretation. Pettis concentrates on serving songwriters' intentions, but her delighted treatment of Jimmy McHugh's "I Just Found Out About Love" includes one of two scatting episodes in the collection. She scats with musicianly understanding of harmony. There is not a lot of that going around among singers. Pettis gives "Black Coffee" its bluesy due but avoids the affected emotion with which many singers are tempted to smother the song.
In "I've Grown Accustomed to Your Face," bassist Jeff Johnson, with his customary strength and sensitivity, is the singer's sole accompanist. "We've Met Before" is a duet between Pettis and pianist Randy Halberstadt. With this lovely song, Halberstadt may have composed a new standard. He and Johnson are on half of the tracks. On the other half, Darin Clendenin is the pianist, Clipper Anderson the bassist, Pacific Northwest stalwarts in good form, as is Mark Ivester, who plays drums throughout. Pettis keeps her considerable vocal power in reserve, using it with restraint and taste. In the burgeoning population of new singers, she is a standout.
Posted 11 October, 2007 in CD Reviews -

Comments Off

comments
Daniel Barry's new CD, Walk All Ways (OA2 Records), was recently reviewed at AllAboutJazz.com
"The music this globally borderless chamber-like group makes can sound old world, folk song European one moment—with its sweet, expansive accordion washes dancing with the more succinct violin notes on "Nini's Dream"—or darkly South American the next, on "La Folia Lando," that opens with a despondent bass clarinet cry in front of an accordion drone, later joined by the rich cello tone and the low resonance, knock-on-the door sound of the Peruvian cajon behind Barry's tangy-yet melancholic cornet rumination."
Read the complete review at:
AllAboutJazz.com